Q4 Investors' Newsletter
October 2022
We are excited to be witnessing clear and promising signs of post-pandemic recovery particularly for countries in the Asia-Pacific region. As more countries such as Japan, Korea and Taiwan accelerate relaxation of travel restrictions, we are all able to enjoy travelling to our favourite destinations again. With that, allow me to provide a couple of quick updates on what our team has been busy with in the past quarter.
Firstly, for the Cambodia Development Fund (CDF), we are pleased to announce the successful completion of the FY2021 audit for Leedon Heights Condominium, and CDF is currently in the process of finalising its audit report. We will keep you updated once the audit report is ready for dissemination.
Next, the Leedon Heights project team had recently received a request from the Main Contractor for an extension of the construction timeline by 3-6 months, to Q1/Q2, 2024. Key contributing factors of the project extension cited were COVID-19 and the unfavourable rainy weather. Short term situations arising from post-COVID restart constraints on the supply chain include; shipping and logistics delays; material/manpower distribution shortages; and new safety and regulatory measures due to the pandemic last year. In addition, the situation was further exacerbated by the highest rainfall levels that Phnom Penh had experienced in 8 years. While the project team's existing and new efforts to apply active measures to keep the construction progress as close to the scheduled timeline as possible, the extension request was assessed to be reasonable and inevitable. 
For investors, it is important to note however that, the extended construction timeline of 3-6 months will still be well within the projected Fund life of 3-5 years (to close by Q4, 2024). The team has also assessed that this extension would have little to no impact on the successful completion of the overall project. The CDF team is closely monitoring the matter and will continue to provide regular updates in our subsequent newsletters.
Next, as the world continues to grapple with inflation, monetary tightening and interest rate hikes, this has affected valuations across all asset class. However, the majority of the investment theses of Compounder Fund's (CPF) holdings have not changed fundamentally and we continue to believe in the long term potential of these Companies. We would like to thank our like-minded investors for your continued trust in us on this journey.
We have also been busy with our two newly launched funds, namely Real Estate Debt Fund and Cambodia Real Estate Fund. Both has been proceeding smoothly with close to S$8M raised in the past quarter! Additionally, we will also be launching our fifth fund, Galilee Investment Fund VCC – Sub-Fund 2 Nolan Capital Fund (NCF) by the end of this month. We warmly welcome Reagan and Joshua, who will leading Nolan Capital Fund, to the Galilee family.
Finally, continuing with our practice of introducing every member of our Advisory Committee to all our investors, it is my honour and pleasure to introduce our pioneer member of the Committee, Mr Choong Chan Yong. Mr Choong has been a strong contributor to Galilee since the inception of our first fund in 2019 and we believe that his insights and advice will continue to guide us well in Galilee's next stage of growth. 
Mr Choong Chan Yong,
Advisory Committee Member
Mr Choong Chan Yong graduated with a degree in Industrial and Systems Engineering from Ohio State University, and also attended Harvard Business School's PMD program.
He built his career of over 30 years in the Semiconductor Industry, holding varied management positions in Sales, Corporate and Business Development as well as Supply Chain Management in different MNCs (Multi-National Companies) such as Texas Instrument, National Semiconductor, Chartered Semiconductor, STATS Chippac Ltd. and JCET Group Co Ltd.
In his last position at JCET as Group VP, Corporate Procurement, Mr Choong led global procurement teams across plants in China, Korea as well as Singapore to achieve synergistic cost reduction and harmonize processes for all critical materials and strategic equipment.
Currently, Mr Choong is active is various church activities, and also enjoys outdoor activities including hiking and cycling.
That is all from me but do read on for fund specific updates. We would like to thank you for your patience and continued support. Please feel free to reach out to us if you have any feedback.
Regards
Resuming Investor Trips to Phnom Penh, Cambodia
Galilee had hosted its 4th investor trip into Phnom Penh, Cambodia since May 2022. The trip typically involves visits to our investment sites and experiencing Cambodia's local culture through their food and places of interest. Check out some of our photos from recent trips below!
If you are interested to join us for our next investor trip to Cambodia, you can sign up via our Google Form or contact enquiry@galileeinvestment.com if you have any questions. You can check out a sample trip itinerary here.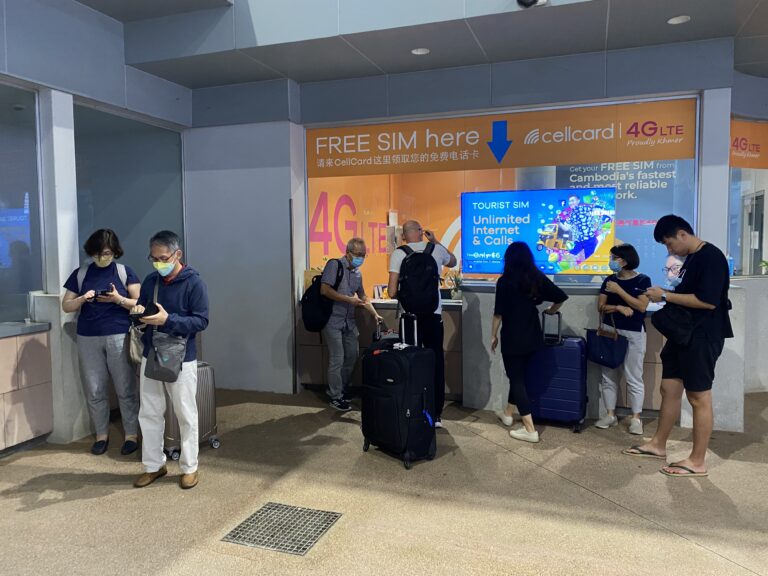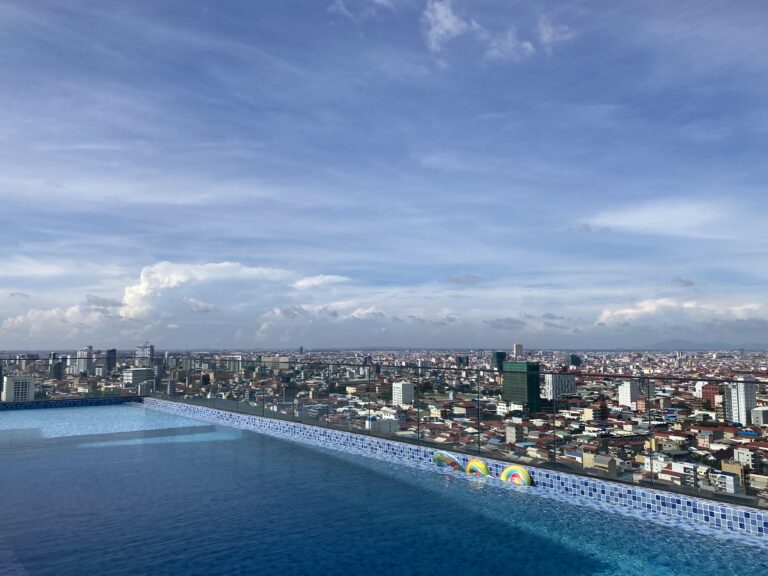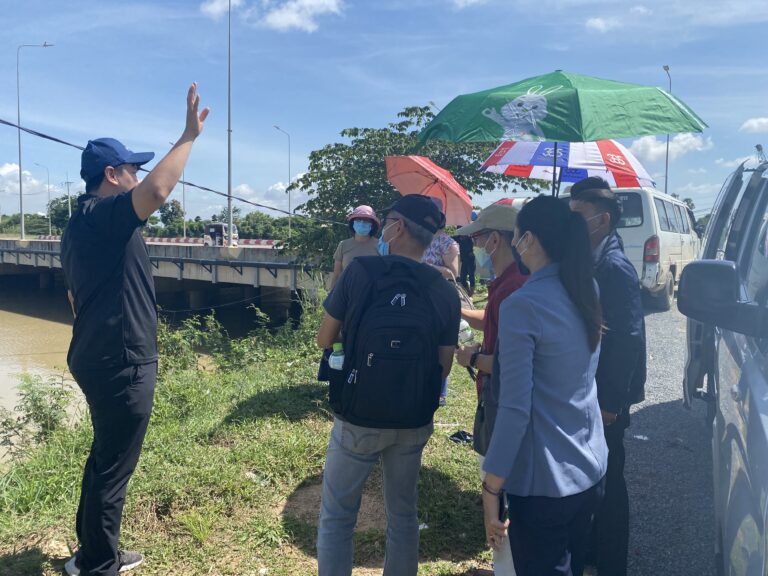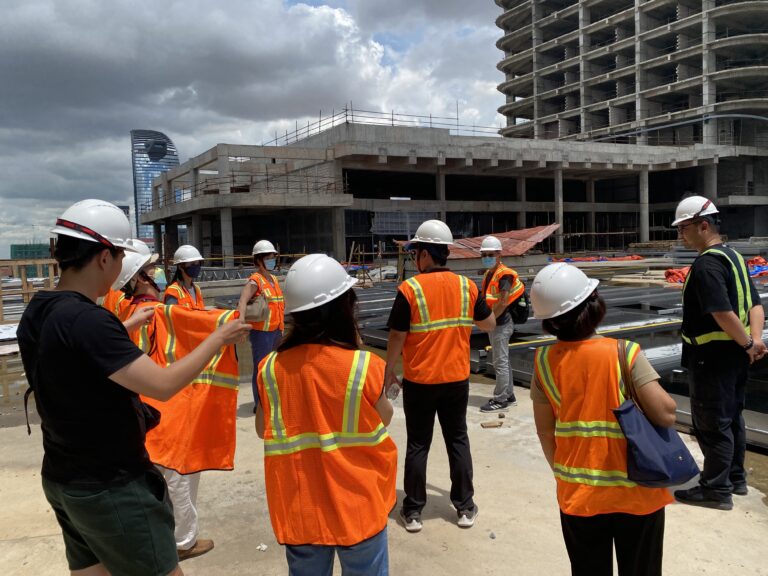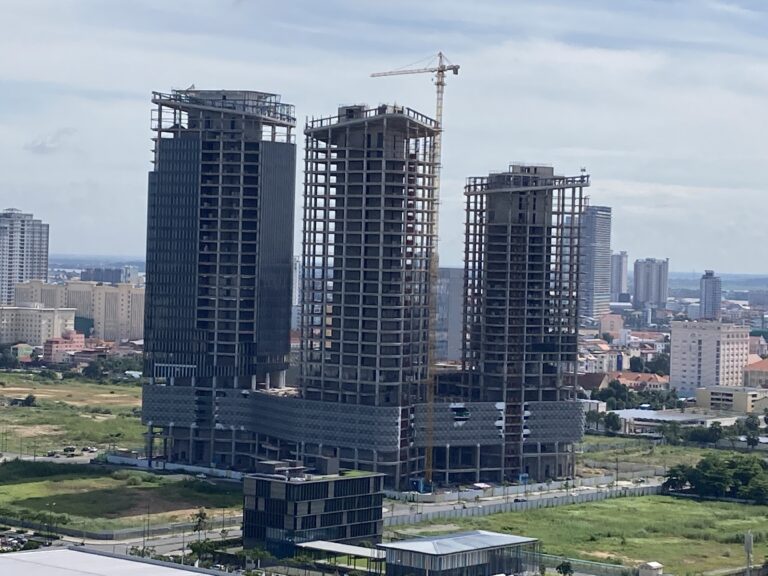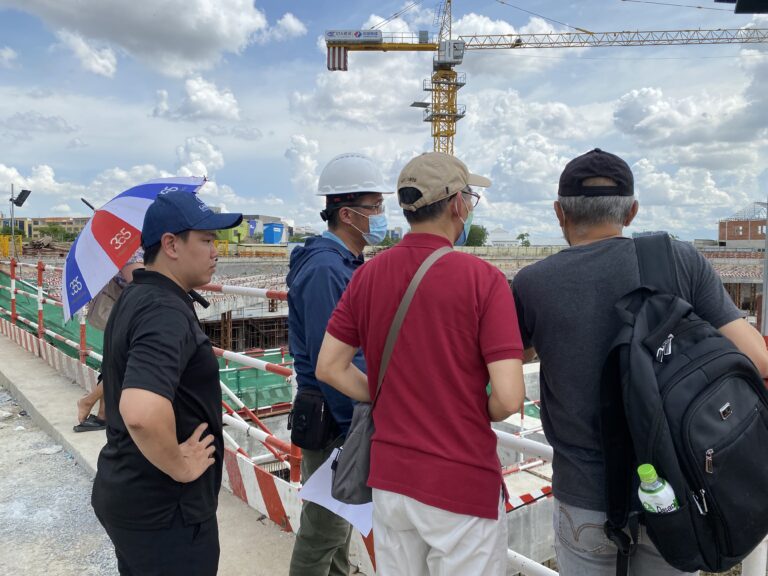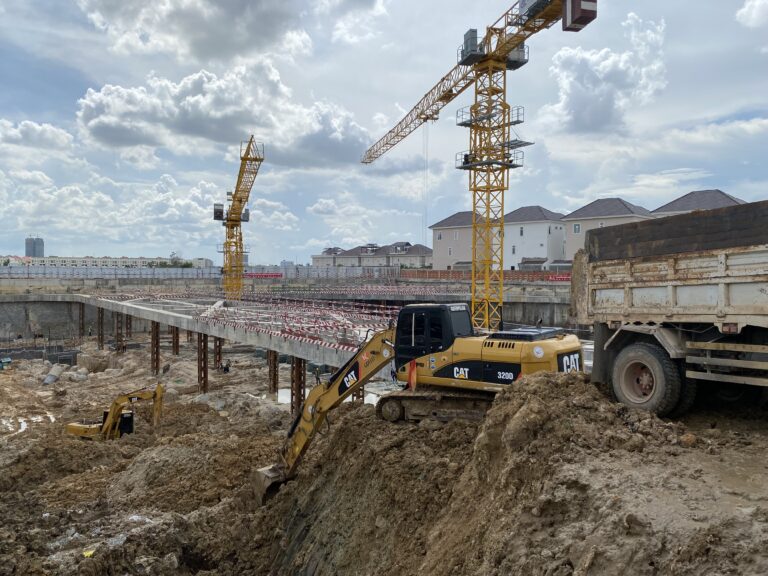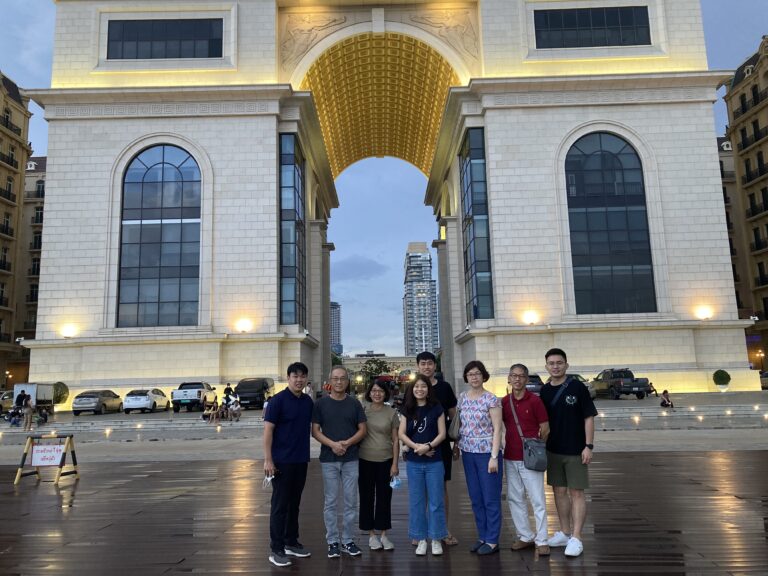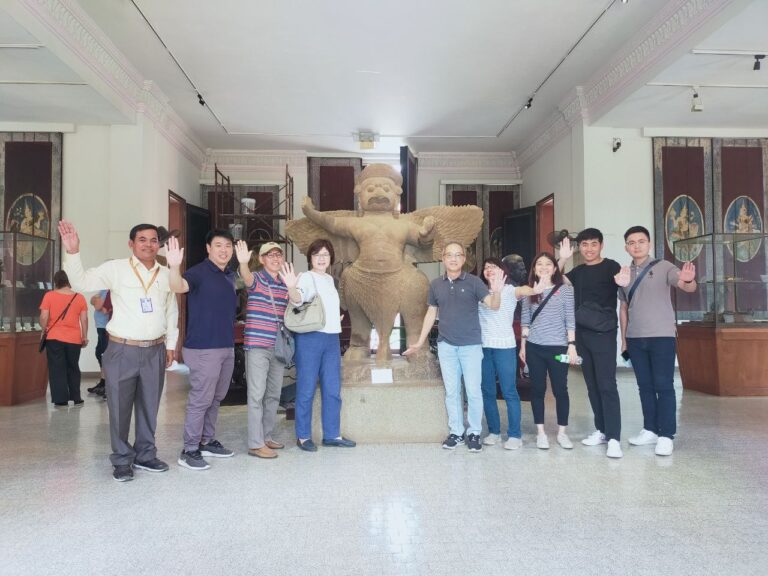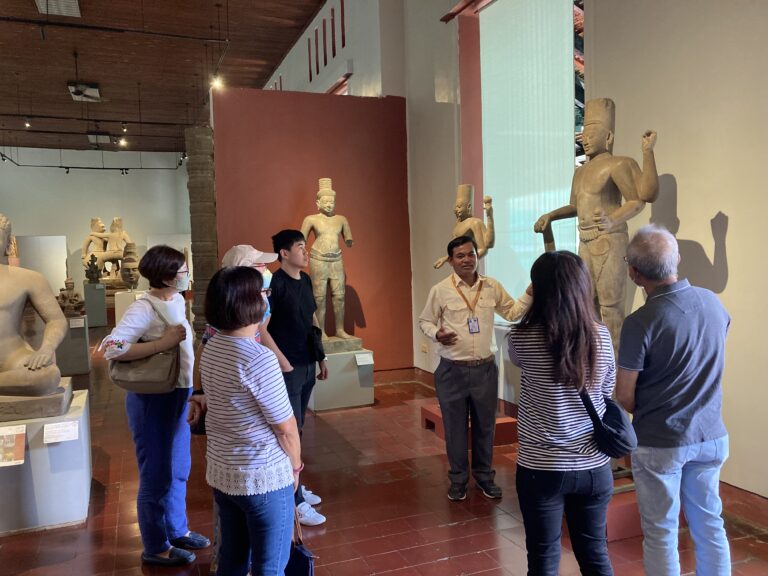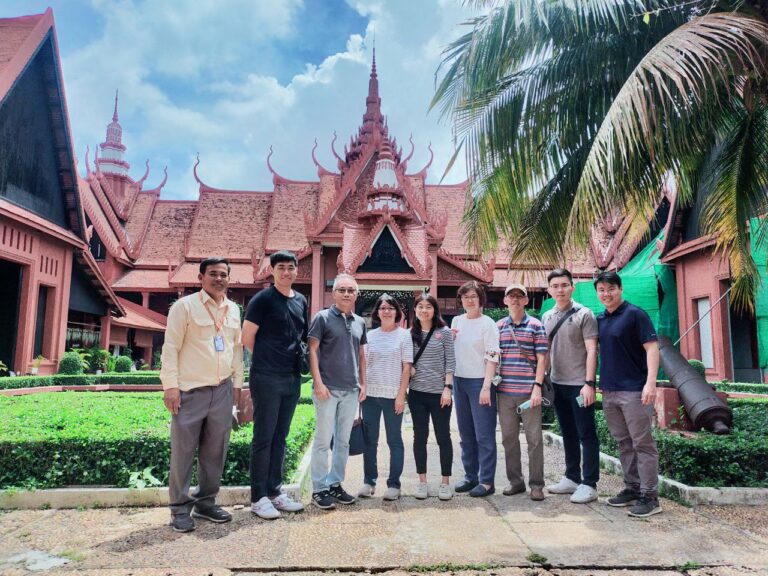 In line with Galilee's aim to continue to value-add to our investors, we have decided to organise a series of free educational seminars, and provide an email service with exclusive investment content, invitations to seminars, company announcements and private access to newly launched funds.
Register for our inaugural free educational webinar on the Topic of Wills and Trust, conducted in collaboration with Precepts Group and Ng & Partners, to be held via Zoom on 21 October 2022.
Nolan Capital Fund is an open-ended fund that focuses on delivering the highest possible absolute annualised returns to investors over the long term. The investment strategy is to actively identify price-value inefficiencies of listed securities globally with a strong upside and minimal risk of permanent loss of capital.

Real Estate Debt Fund is an open-ended fund that focuses on sourcing out good quality assets which require private debt funding, giving investors the opportunity to participate in specific projects of their choice. The Sub-Fund will invest primarily in real estate backed private or public fixed income products or deals. The Sub-Fund aim to provide investors with a stable annual dividend income yield of between 6-10% net of fees, paid out quarterly, over the long term. 
My Square Metre Fund VCC is an open-ended investment umbrella fund which will allow investors to participate in My Square Metre's (Galilee's strategic partner) growing real estate portfolio in Cambodia and the region through its sub-funds. This fund would only be open to strategic investors by invitation only.
Fund Description: The Fund was created to achieve a target annual compounded return of 18% net of fees through investment in residential real estate development in Cambodia. This closed-ended fund started in January 2020 and is targeted to close no later than December 2024. The target fund size is US$37 Million. 
FY2021 audit for joint venture company, Leedon Heights Condominum had been completed

. The Fund is in the process of finalising its audit report and it will be made available once it has been completed.
You would also hav

e received your half-yearly NAV report (ending 30 June 2022) last month. The NAV reported in the half-yearly NAV report is expected to be lower than the upcoming Fund's audited Financial Statements (ending 31 Dec 2021). This is because the audited financial statements would have taken into account and recognise fair value gains from Leedon Heights Condominium

. Do contact us if you require any clarifications.
In line with the team's strategy to reposition Leedon Heights as a premium project in Sen Sok, the developer effected an increase in unit prices across all towers in April 2022. 

As expected, the team had seen a slowdown in sales in the past quarter due to the price increase, but they are confident that the announcement of Phase 3 of the Leedon Integrated Lifestyle Hub and the economic recovery of Cambodia would allow the project to command a higher price point by H1 next year.
Feel free to follow the project's facebook page to get an inside scope on the project's latest marketing updates in Cambodia!
Potential Extension to Construction Timeline
The project team had received an update from the Main Contractor to request for an extension to the project's completion timeline by 3 to 6 months (with implemented remedial actions) citing two main contributing factors namely, 1) COVID-19 and 2) Rainfall:
1) COVID-19 Impact
The pandemic had posed key challenges to the whole supply chain due the implementation of extended safety measures such as border closures and quarantine measures. Enforcing these measures has led to a drastic reduction in actual construction man-hours. This reduction was further exacerbated by construction material/manpower shortages and shipping delays especially last year.
2) Rainfall Impact
Based on a report from Trading Economics, the average rainfall in Cambodia in 2021 was at the highest in 8 years. The impact of heavy and frequent rainfall has affected the progress of the basement construction which included excavation, piling, flooring and waterproofing activities.
Mitigation and Remedial Action Plan
In view of these accumulated delays, the project team had been working with the Main Contractor to impose a plan to speed up activities on site.
1) Increasing Manpower and Concurrent Work Activities 
With the easing pandemic situation, more workers have been engaged to increase concurrent activities, on top of the already implemented night shift duties. Additionally, with the drier conditions ahead, frequency of activities such as concrete pouring could be increased while waterproofing activities can proceed faster with less disruption. These actions would result in higher productivity output on site and reduce the extent of the delay.
2) Use of More Efficient Climbing Formwork Method
The project team has studied and approved the use of a more efficient climbing formwork method for the Main Contractor to shorten the construction time, without compromising on safety standards and specifications. Compared to conventional formwork methods, the climbing formwork is more systematic and efficient. This would reduce the time required to construct the main building structure. Although performing this method would mean additional construction cost to the Main Contractor, both parties had concluded that a faster construction completion date would benefit everyone due to the reduced overall project overheads costs.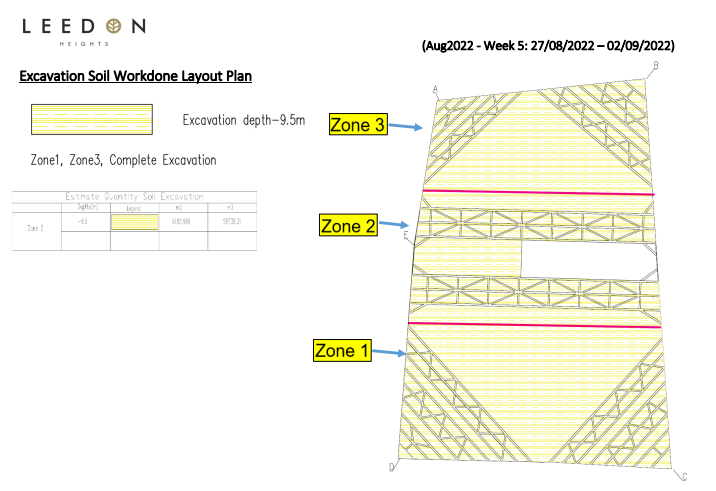 Soil excavation for Zone 1 and 3 has been completed.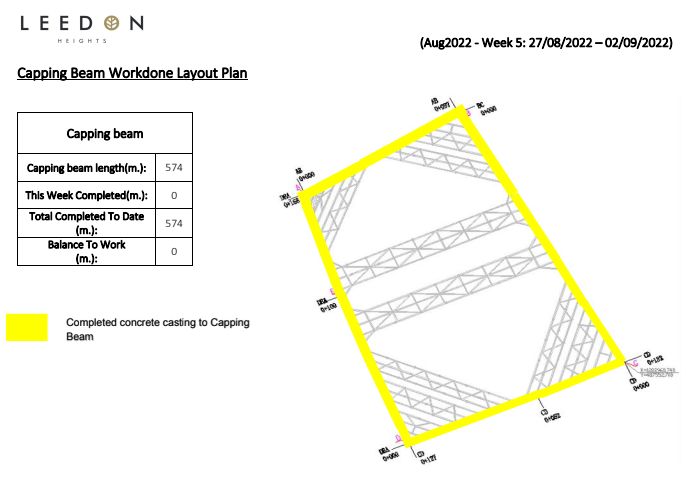 Concrete casting to capping beam has been completed.
Construction Site Pictures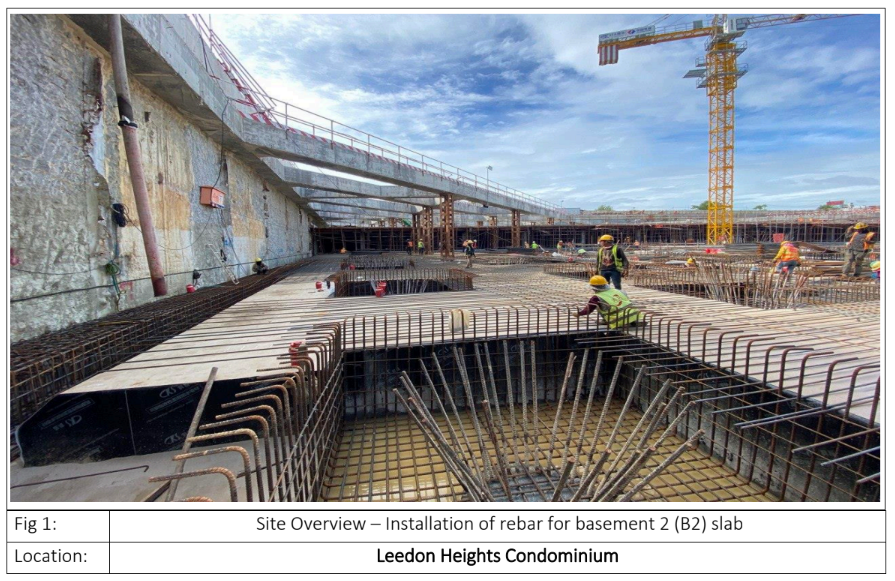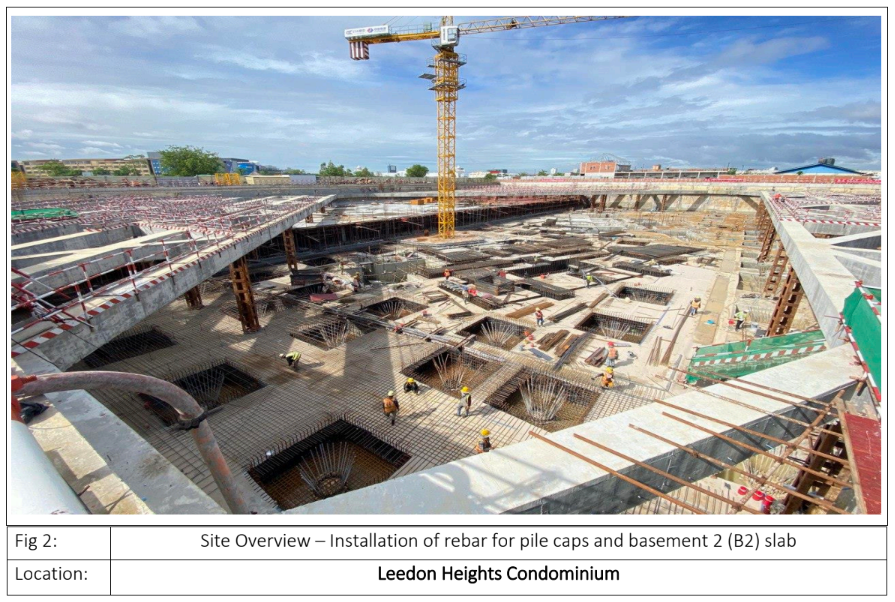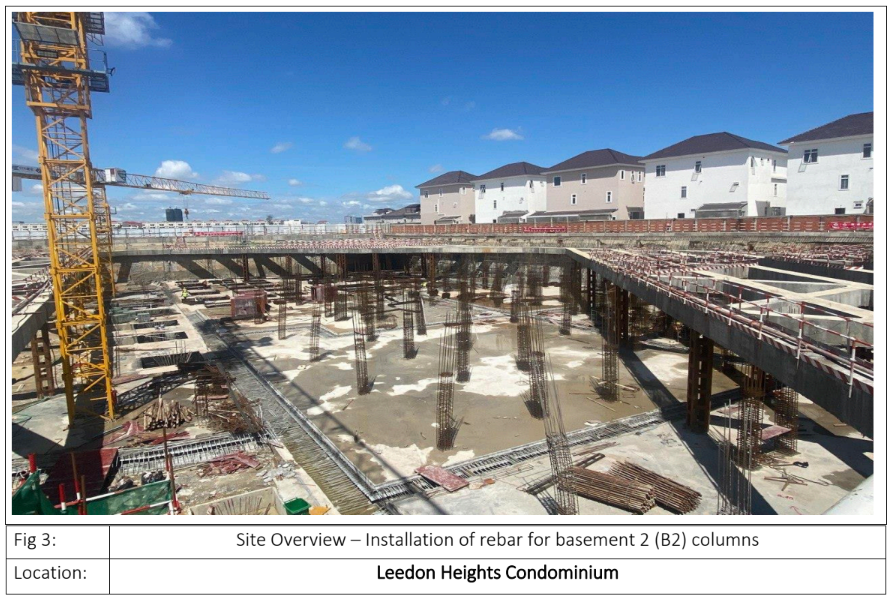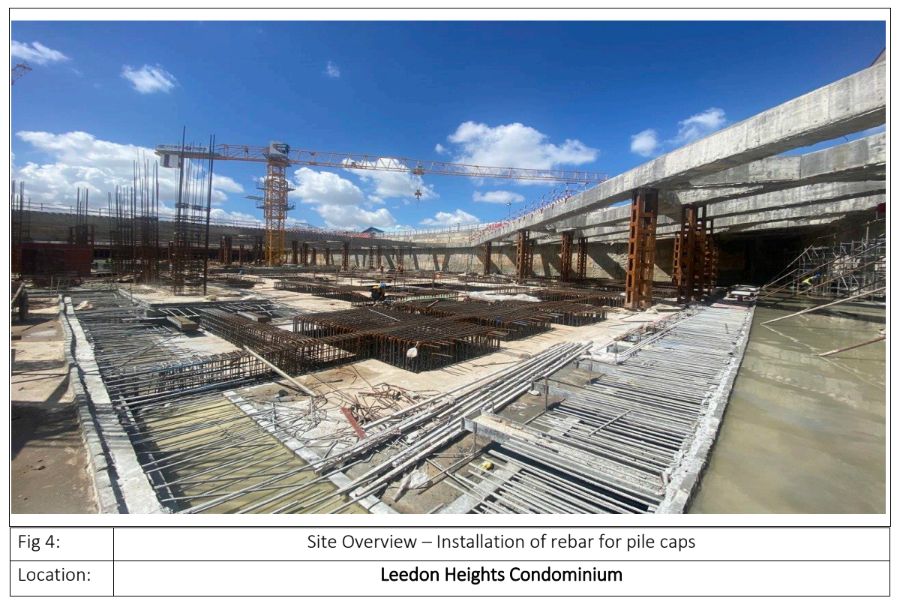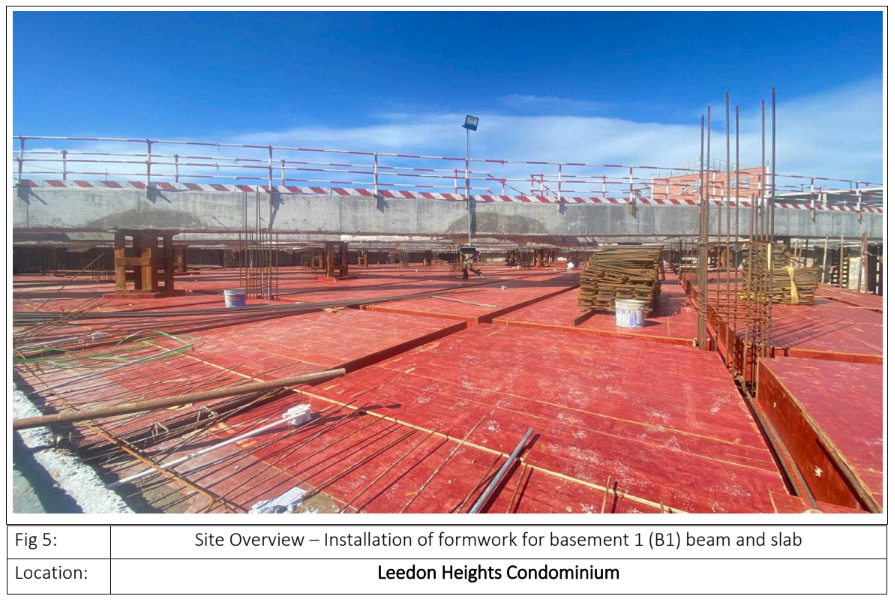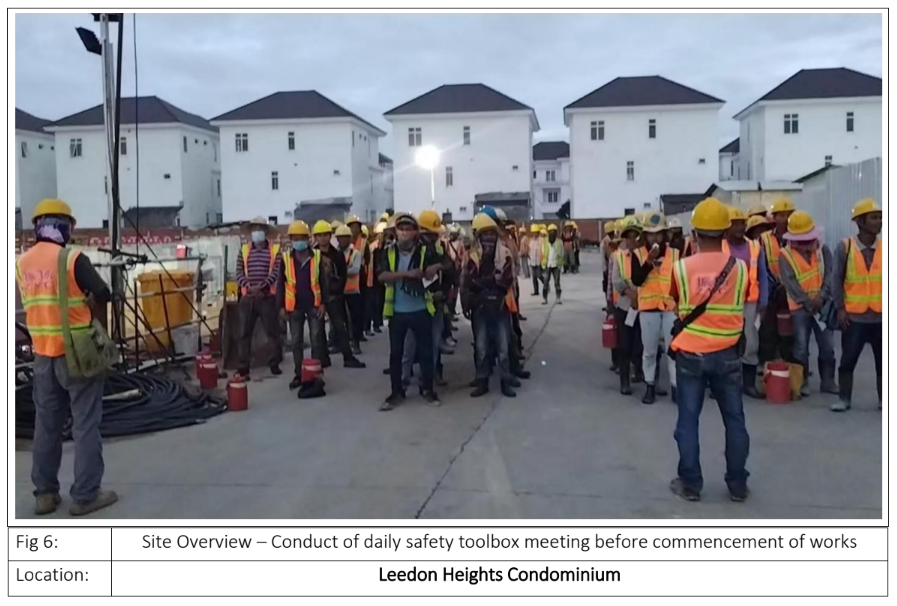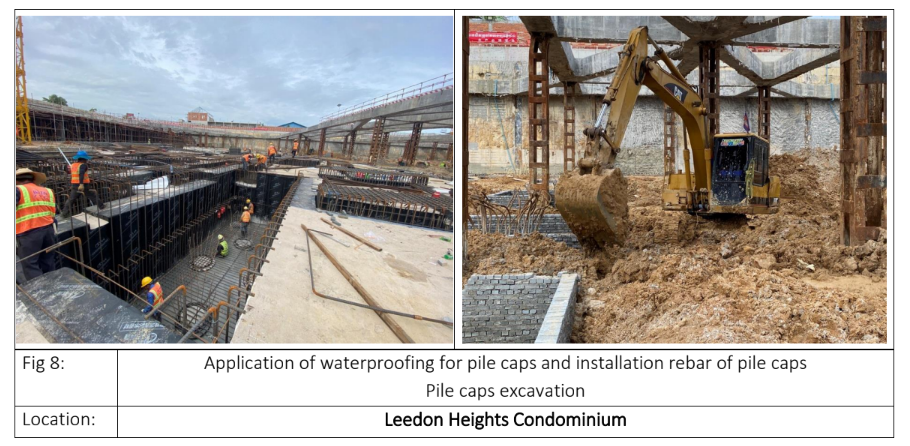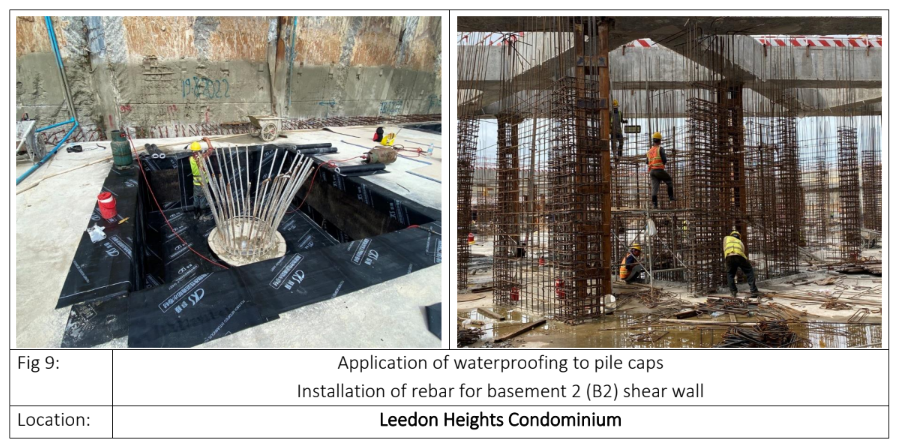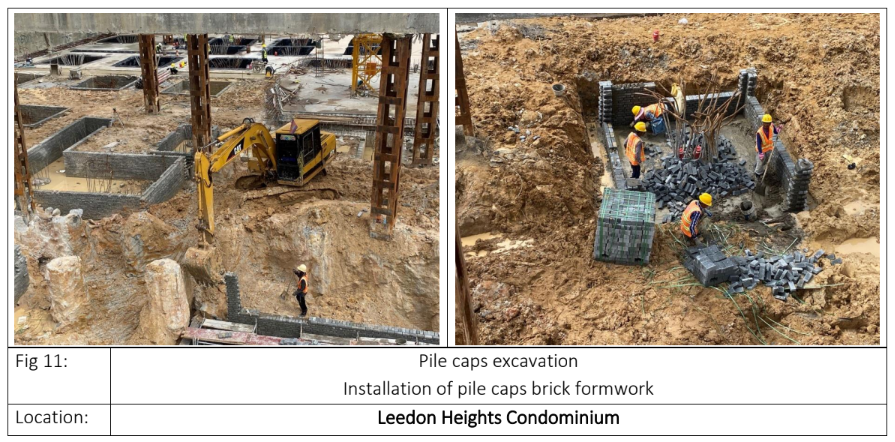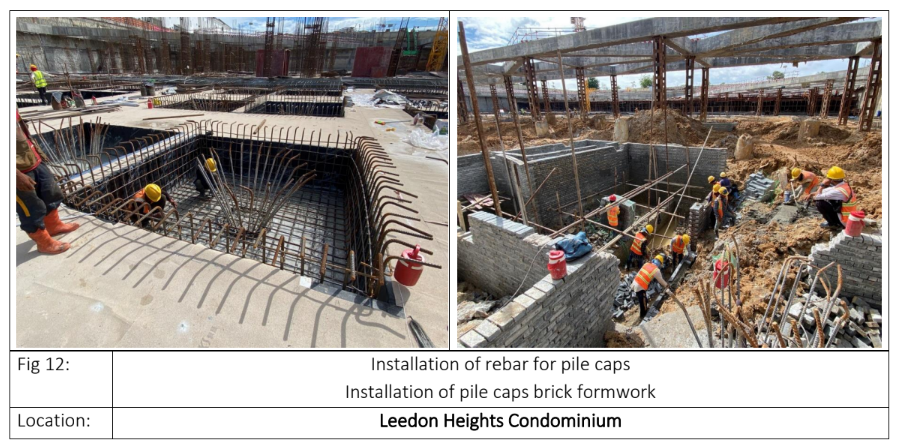 Latest Economic Developments in Cambodia
Check out the latest articles featuring Cambodia's development and growth to understand why investing in Cambodia will continue to have a place in your investment portfolio.
The Kingdom has seen a significant rise in the number of international tourists in the January-August period of 2022, reflecting the industry recovery thanks to the government resuming the border to vaccinated tourists. Full article here (Khmer Times).
Rents and demand for serviced apartments in Phnom Penh are back on the up, buoyed by the reopening of the country in early November and general improvement in the Covid-19 situation, according to a prominent real estate company. Full article here (Phnom Penh Post).
Cambodia approved 123 foreign investment projects amounting to almost $3.3 billion from January to August this year, according to data by the Council for the Development of Cambodia (CDC). Full article here (Khmer Times).
The Phnom Penh-Sihanoukville Expressway is currently 96.6 per cent complete, with the start date of the pilot launch to be announced this month, according to Ministry of Public Works and Transport spokesman Heang Dotheayut. Full article here (Phnom Penh Post).
Fund Description: Compounder Fund is an open-ended fund that focuses on long-term investing in equities around the world. The investment strategy is to find Compounders – public-listed companies that are able to grow their businesses at high-rates over the long run – through holistic fundamental analysis and holding onto their shares for years. The Fund aims to generate a 12% annualised return, net of all fees, over the long-term.
The companies in Compounder Fund's portfolio continue to produce good business results. In the second quarter of 2022, the average year-on-year revenue growth for all of the Fund's current holdings that have reported their latest quarterly results (as of the date of this letter's drafting, 16 September 2022), was 20.7%. It's worth noting that this performance came on the back of average revenue growth of 77.1% for the same set of companies in the third quarter of 2021.
The average free cash flow margin in the second quarter of 2022 for the companies did decline to 12.6% from 17.4% a year ago, which meant that the portfolio's free cash declined. But the margin is still healthy. We believe the fund is on the right path toward good long-term returns, even as returns since the fund's inception have been disappointing.
If you wish to find out more, please contact jeremy.chia@galileeinvestment.com.
Visit our website to get the latest updates on the Fund's Performance and Investment Theses: 
Galilee Investment Fund VCC - Sub-Fund 1
Real Estate Debt Fund
Fund Description: Real Estate Debt Fund is an open-ended fund that focuses on sourcing out good quality assets which require debt funding, giving investors the opportunity to participate in specific projects of their choice. The Sub-Fund will invest primarily in real estate backed private or public fixed income products or deals. The Sub-Fund aim to provide investors with a stable annual dividend income yield of between 6-10% net of fees, paid out quarterly, over the long term.
The first project launched is for this Fund is structured as a Hospitality Fit-Out Debt Financing with an expected dividend payout of 7.5% per annum, paid quarterly with a 2-year term. This project allows investors to participate in providing debt financing for the fit-out of a series of hospitality developments to be managed by international brands such as Hilton, Citadines, Park Royal and Fraser Hospitality. 

Capri @ 228 (To be managed by Fraser Hospitality)
The first hospitality development, Capri@228, is currently undergoing renovation and is expected to be completed in 2 Phases. Phase 1 (Soft Opening) will be expected to be completed by Dec 2022 and Phase 2 (Full Opening) is expected to take place in Q1 2023.
Global Tech Exchange (To be managed by Hilton)
The second project within this portfolio is Hilton Hotel at Global Tech Exchange. Construction is postulated to be completed by Q1 next year. Fit-out works can then commence and is expected to be completed by Q1 of 2024. 
You can find a copy of our Project Factsheet here. 
Click here or contact investor_relations@galileeinvestment.com if you wish to find out more! 
Fund Description: Nolan Capital is an open-ended fund that focuses on delivering the highest possible absolute annualised returns to investors over the long term. The investment strategy is to actively identify price-value inefficiencies of listed securities globally with a strong upside and minimal risk of permanent loss of capital.
Although the fund is newly launched with Galilee, Nolan Capital had been operated privately for a closed group of investors since 2020. The fund had achieved the following results:
Year-to-date (YTD), as of 09 September 2022, Nolan Capital has cumulatively returned 248.99% (net-of-fees) since inception on 01 Jan 2020. This represents an annual compounded rate of 59.94%. Nolan Capital has achieved year-to-date returns of +10.86% while the S&P500 index and EFA index return are -16.48% and -23.11% respectively.
The positions we currently hold are highly convicted opportunities that we believe are attractively mispriced. More importantly, they possess strong catalysts for value realisation. Cash now makes up the bulk of our portfolio as we are in the process of transitioning to Galilee Investment Management Pte. Ltd. Upon full transition to Galilee, results would be based on the quarterly NAV reported by our Fund Administrator, Crowe Horwath.
Kindly email us at investor_relations@galileeinvestment.com or contact your usual Galilee contact if you have any questions, feedback or changes to your personal details. (Bank account, handphone, email address, residential address etc.)
This confidential Newsletter ("Newsletter") has been prepared by Galilee Investment Management Pte Ltd ("Galilee") for distribution to selected recipients only. This Newsletter is for information purposes and shall not be construed as investment advice or for marketing purposes. While reasonable care has been taken to prepare this document, the information contained herein may not be relied upon for accuracy or completeness; and any opinion or estimate contained in this document is subject to change without notice. This Newsletter must not be published, circulated, reproduced or distributed, in whole or part, to any other person without the prior consent from Galilee. Please remember that past performance may not be indicative of future results. Different types of investments involve varying degrees of risk, and there can be no assurance that the future performance of any specific investment, investment strategy, or product made reference to directly or indirectly in this newsletter (article), will be profitable, equal any corresponding indicated historical performance level(s), or be suitable for your portfolio. Due to various factors, including changing market conditions, the content may no longer be reflective of current opinions or positions.