Q2 Investors' Newsletter
April 2023
As the first quarter draws to a close, I'd like to take a moment to reflect on the impressive progress the Galilee team has achieved. Despite the ongoing challenges posed by the market conditions, we have remained steadfast in our mission to deliver value to our investors, all the while adhering to the highest standards of professionalism and compliance.
Over the past several months, we have taken significant strides towards expanding our team and bolstering our operations. Moreover, we have dedicated ourselves to strengthening our relationships with key stakeholders, including regulatory bodies and business partners.
As we move forward, I am confident that our team's unwavering commitment and hard work have positioned us well to navigate the uncertainties that lie ahead. Our focus remains fixed on our investment mandates while we explore new opportunities for growth and innovation.
I'd also like to express my heartfelt gratitude to our investors for your continued trust and support, as well as to our team members for their exceptional commitment to excellence. Together, we can achieve great things and continue to forge a brighter future for Galilee and our community.
---
A quick update on our Cambodia Development Fund ("CDF"). We are pleased to share that on-going negotiations with the potential buyer is going well. We will be releasing a more detailed status update about the buyout negotiations for our Galilee-led investors later this month. Do stay tuned for the update!
Despite the recent collapse of certain large banks in the U.S., Compounder Fund's ("CPF") portfolio companies has not been directly affected. CPF continues to execute their investment strategy based on their mandate; which is to concentrate on the long-term growth prospects of its portfolio companies and remains optimistic about the managements' ability to navigate their companies through the challenging macroeconomic environment. Again, we would like to thank our like-minded investors, who have contributed to the CPF's ability to establish a behavioral edge and adhere to a long-term investment philosophy by placing their trust in our mandate.
We are thrilled to share that our recent fund launches, namely the Real Estate Debt Fund ("REDF") and Cambodia Real Estate Fund ("CREF"), are progressing well. The REDF has raised more than S$9 million to-date, with dividends declared and successfully disbursed to our valued investors. Meanwhile, CREF has raised US$5 million to-date, with plans to acquire and inject various assets into the Fund. The audit and acquisition of CREF's main umbrella JV company and three other target land holding companies in Cambodia had been completed. The rest of the asset holding companies are presently still undergoing audit before being acquired by or transferred into CREF.
Last but not least, we are delighted to introduce another pioneer member of our Advisory Committee, Dr. David Kuo. Dr. Kuo has been an integral part of our team since the inception of our Compounder Fund in 2019, providing unparalleled expertise and guidance that has greatly contributed to our continued success. His unwavering dedication and valuable insights have enabled us to consistently enhance our operations, ensuring that we remain at the forefront of our industry. We express our deepest appreciation for his outstanding contributions as we work towards achieving our shared goals within the industry.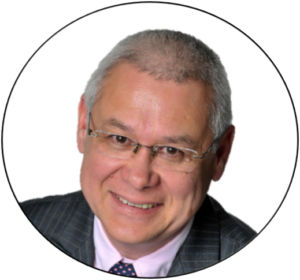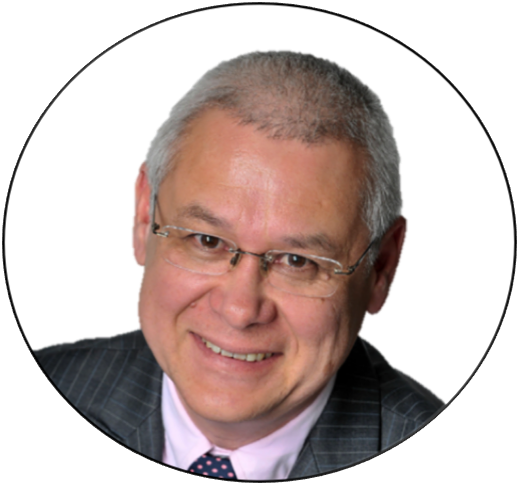 Dr. David Kuo,
Advisory Committee Member
Dr. Kuo is a distinguished figure in the field of finance, with a notable background in chemistry. Raised in Asia (in both Hong Kong and Singapore), he pursued his passion for science and went on to earn a PhD in Chemistry from Imperial College London. However, Dr. Kuo chose to venture into the financial world, accepting a position at Hilton Group's Horse Racing division in Britain.
Dr. Kuo's expertise in the financial sector led him to Motley Fool Britain, where he was hired as a financial analyst. His deep understanding of the burgeoning biotechnology and online gaming industries made him a valuable addition to the team. After spending 15 years in Britain, Dr. Kuo decided to return to Asia and established Motley Fool Singapore as its CEO.
Dr. Kuo is a vocal advocate of long-term income investing and has gained international recognition for his views on financial matters. As a renowned financial broadcaster, Dr Kuo's views are regularly sought by the MoneyFM, BBC, CNBC, RT, ChannelNewsAsia and 938LIVE. He is a regular columnist at The Business Times. Prior to the Motley Fool Singapore's closure, his free weekly bulletin there, "Take Stock Singapore", was read by over 140,000 Singaporean investors. He is currently a co-founder of The Smart Investor, a website dedicated to educate people on how to grow their wealth through stock market investing.
Dr. Kuo's career trajectory is a testament to his versatility and ability to succeed in multiple fields. He has managed to carve a niche for himself in the world of finance despite his background in chemistry. Dr. Kuo's dedication, passion, and hard work have earned him a place among the leading financial experts of our time.
That is all from me but do read on for fund specific updates. We would like to thank you for your patience and continued support. Please feel free to reach out to us if you have any feedback.
Regards
The past year continues to be a challenging year for all as everyone had to grapple with higher sustained inflation. 
In line with Galilee's mission to continue to help the less fortunate, Galilee has contributed S$4,400 in online grocery gift cards through the Blessed Groceries Project, to support needy families in Singapore, in the past year. In addition, Compounder Fund has also pledged 10% of their annual profits to various charitable organisations such as Campus Impact, Ray of Hope and Karuna-Shechen. 
Galilee & MSQM Hosts Dinner to Welcome Mr Kim Rithy, Governor of Preah Vihear, Cambodia and his delegates
Galilee and our strategic partner, MSQM, hosted His Excellency, Mr Kim Rithy and his delegates, comprising of 1 Provincial Governor, 3 Deputy Governors, 8 District Governors and 1 Military Chief with their teams for dinner on the 30th March 2023. H.E. Kim Rithy was newly minted as the Governor of the Preah Vihear Province, Cambodia in July 2022.
The delegation was on an official 5-day visit (29 March to 2 April) to Singapore to learn more about Singapore's waste management and vocational education systems, hosted by Singapore's National Environment Agency (NEA), National Parks, 800 Super Waste Management, TuasOne, Public Utilities Board (PUB) and Institute of Technical Education (ITE). H.E. Kim Rithy also took the opportunity to call on his Alma Mater, Bukit Merah Secondary School and Lee Kwan Yew School of Public Policy during the trip.
The event was held at Seletar Country Club, graced by the Cambodian Ambassador to Singapore, His Excellency, Mr Sok Khoeun, featuring a live band and delicious Peranakan cuisine to entertain our guests! Galilee and MSQM are delighted to have the opportunity to host the delegation, together with our Advisory Board members, Mr Leow Kim Keat and Mr Benedict Teo; and service partners from Lymon (compliance advisor) and BakerTilly (auditor).
On behalf of Galilee, MSQM and our partners, we would like to thank H.E. Kim Rithy and his team, for his strong support and commitment to our partnership for Cambodia's future development and great success! 1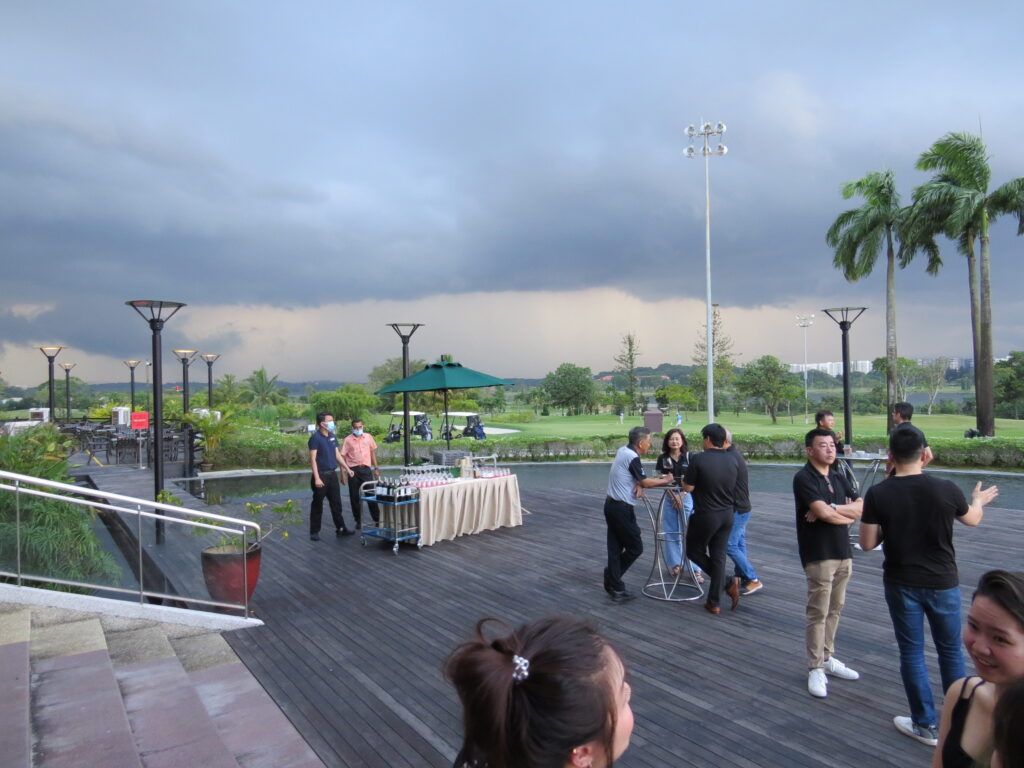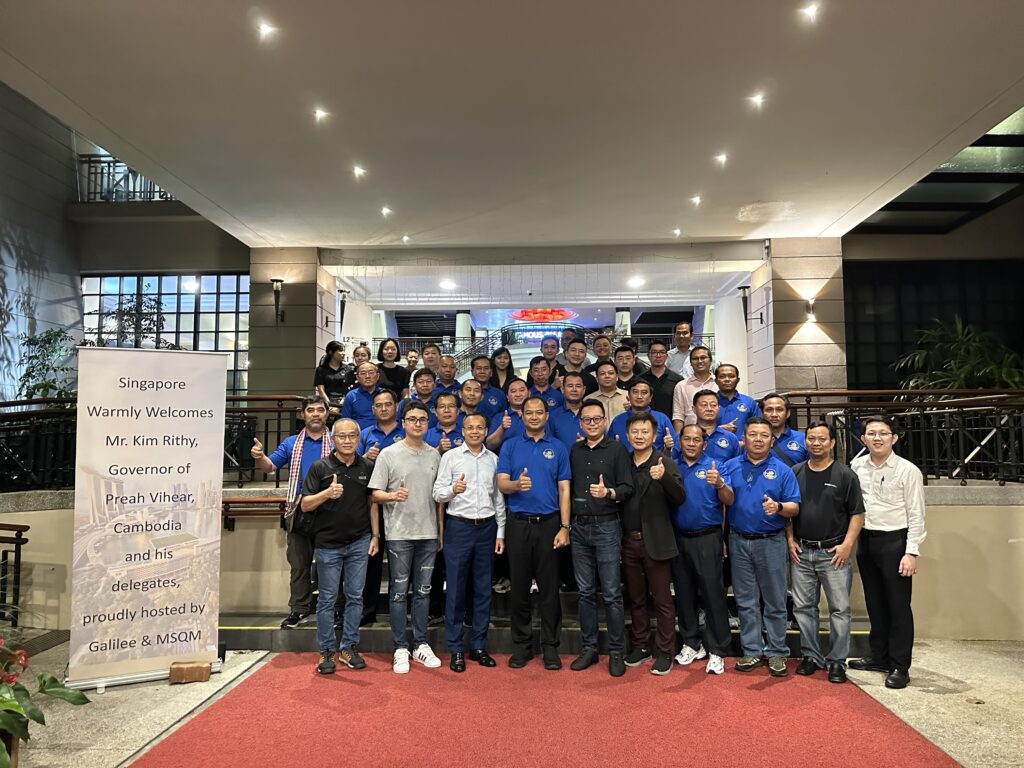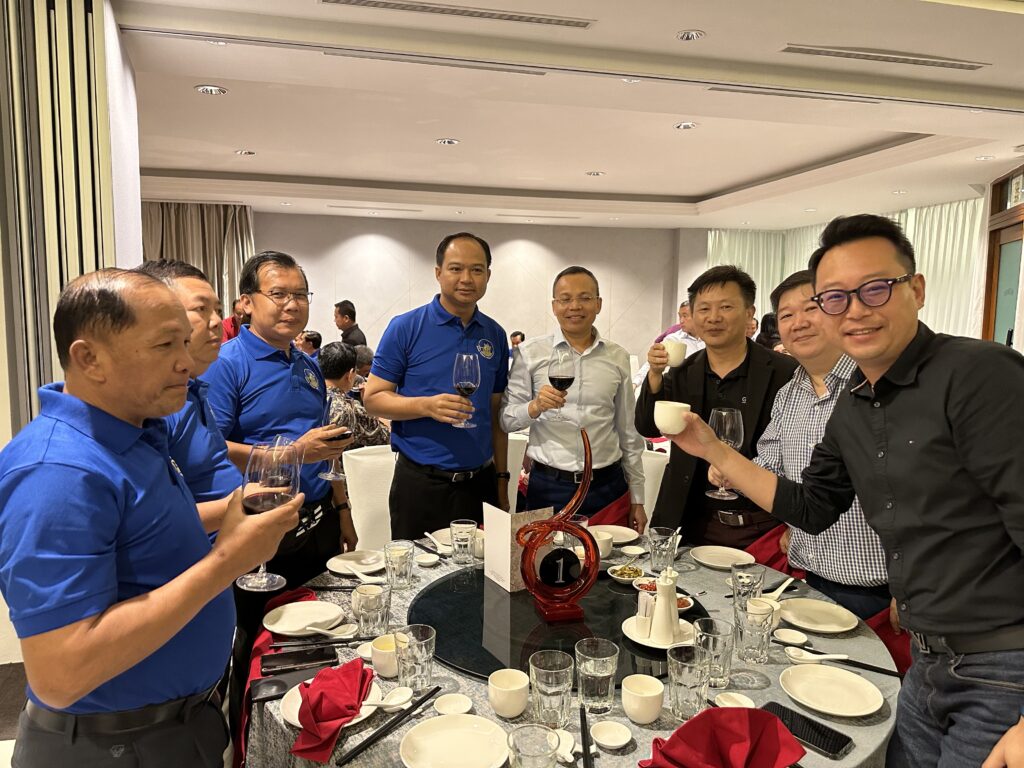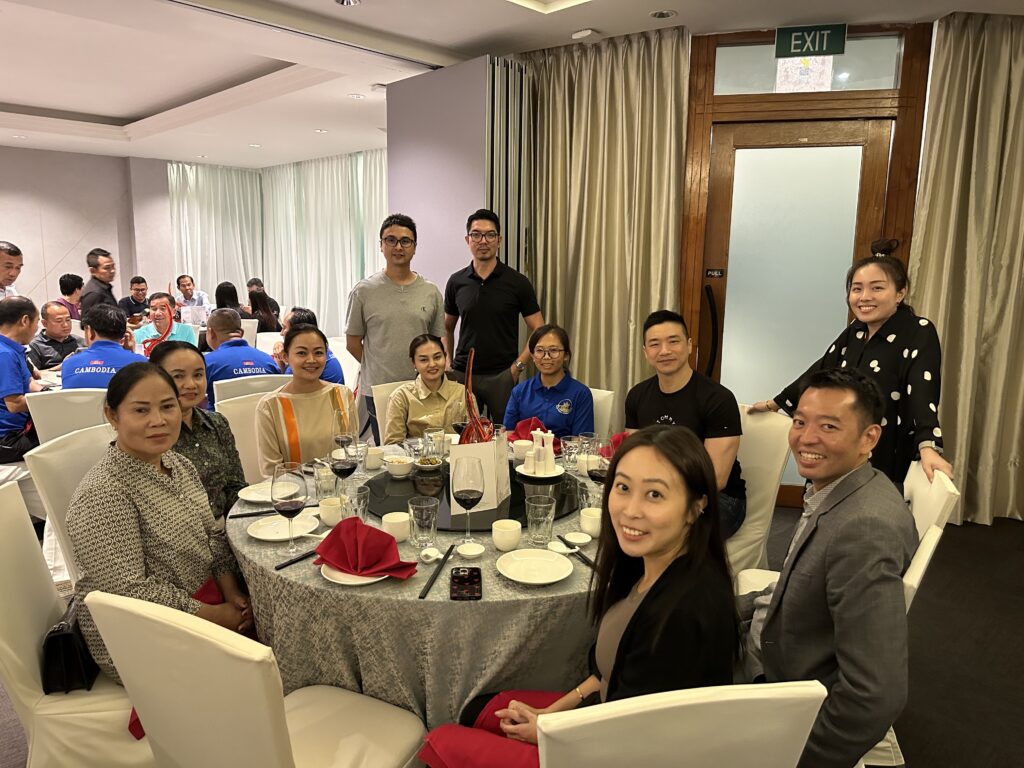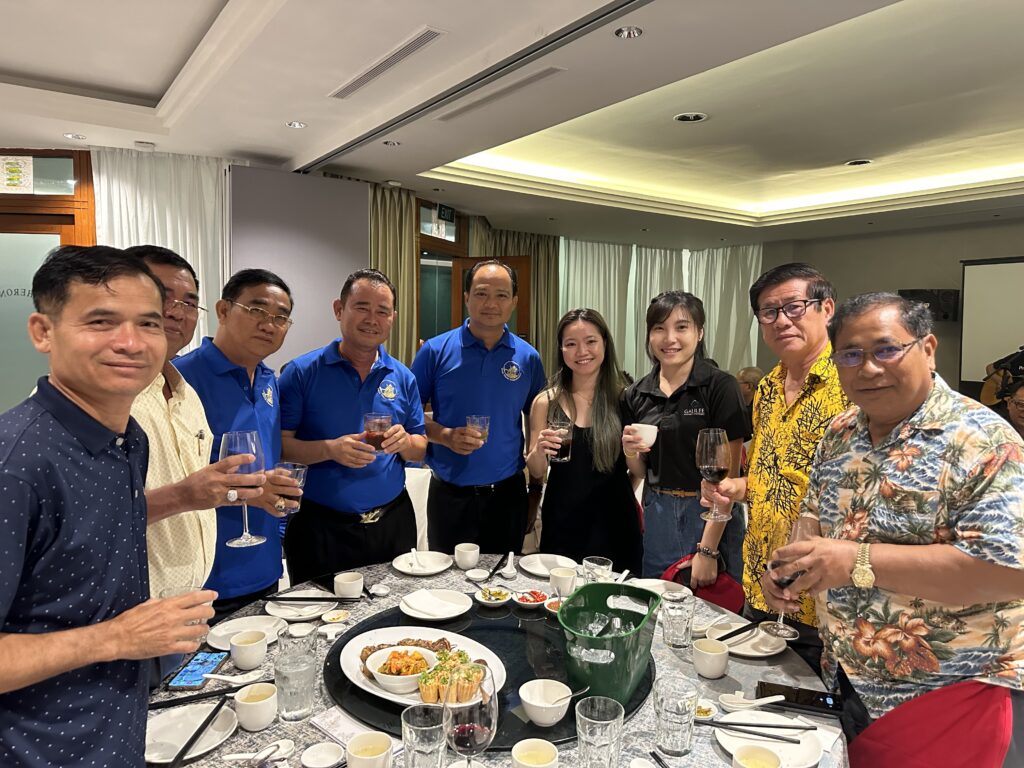 Real Estate Debt Fund is an open-ended fund that focuses on sourcing out good quality assets which require private debt funding, giving investors the opportunity to participate in specific projects of their choice. The Sub-Fund will invest primarily in real estate backed private or public fixed income products or deals. The Sub-Fund aims to provide investors with a stable annual dividend income yield of between 6-10% net of fees, paid out quarterly, over the long term. 
My Square Metre Fund VCC is an open-ended investment umbrella fund which will allow investors to participate in My Square Metre's (Galilee's strategic partner) growing real estate portfolio in Cambodia and the region through its sub-funds. This fund is only open by invitation to strategic investors.
Fund Description: The Fund was created to achieve a target annual compounded return of 18% net of fees through investment in residential real estate development in Cambodia. This closed-ended fund started in January 2020 and is targeted to close no later than December 2024. The target fund size is US$37 Million. 
Negotiations with the potential buyer are still ongoing. A status update on the buyout will be released within this month.
The project team is seeing an uptick in interest, owing to full lifting of travel restrictions across the world, especially for countries such as Taiwan and China.

Sales partners have resumed travel activities to bring potential and existing buyers to visit the Leedon Heights showroom in Cambodia.

Feel free to follow the project's official Facebook page to get an inside scope on the project's latest marketing updates in Cambodia!
Catch a glimpse of the various agency-led investors/buyers from Taiwan and Singapore visiting the Leedon Heights Showroom in the past quarter
 Construction is progressing as planned in accordance with the updated timeline.
The basement will be completed in April 2023.
Superstructure and landscaping works will commence once the basement is completed.
Casting and reinforcement works have been completed for B2 to B1 Columns.
The casting process for B2 Slab and its pile caps has been completed.
Construction Site Pictures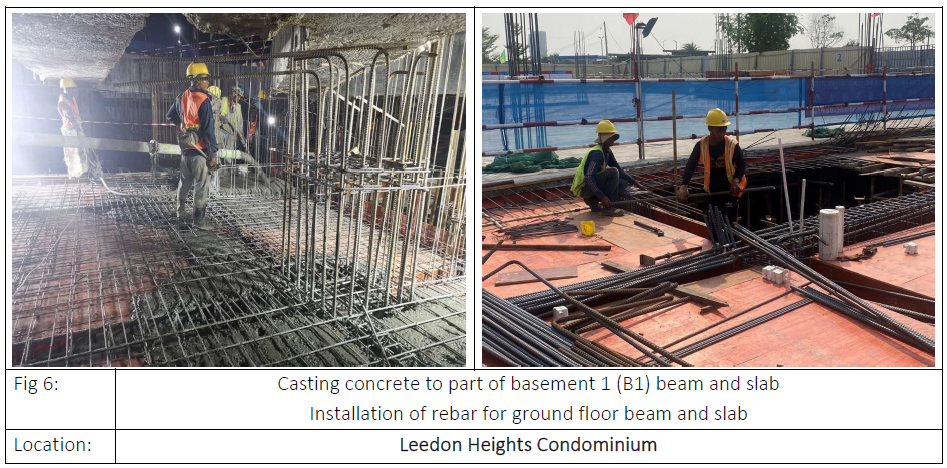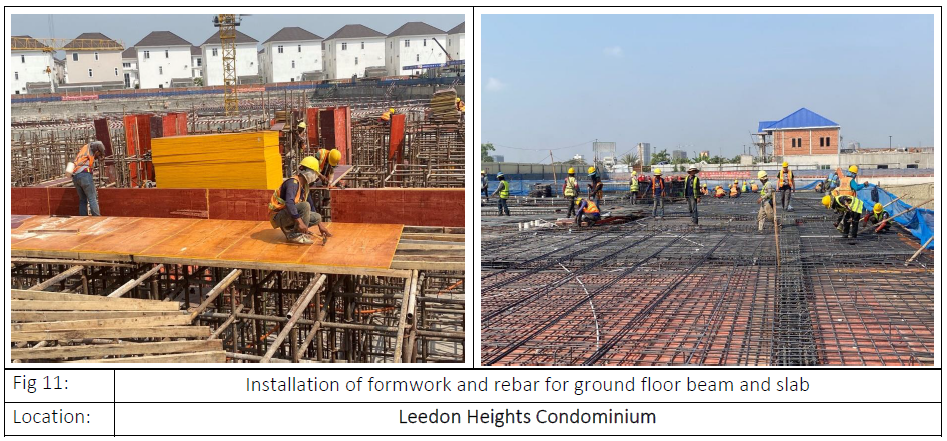 Latest Economic Developments in Cambodia
Check out the latest articles featuring Cambodia's development and growth to understand why investing in Cambodia will continue to have a place in your investment portfolio.
The latest released 2023 land prices for Phnom Penh reveal the most valuable Sangkats in the capital but there remains strong confidence in Cambodia's economic growth and in the property sector. Full article here (Khmer Times).
New airports are coming – as many as six airport projects were explored for the period 2019 to 2024 to further promote the aviation sector, which in turn promotes tourism and national economic growth. Full article here (Khmer Times).
Many foreign nationals have chosen to buy property in Phnom Penh, Siem Reap, Sihanoukville, Battambang and other emerging urban hubs in Cambodia. Full article here (Khmer Times).
The launch of nine new commercial developments in 2022 has brought the total retail space in Phnom Penh to more than 613,000sqm, according to real estate firm CBRE Cambodia, in a feat that has been attributed to effective Covid-19 management and the relatively early reopening of the country in November 2021. Full article here (Phnom Penh Post).
Fund Description: Compounder Fund is an open-ended fund that focuses on long-term investing in public equities around the world. The investment strategy is to find Compounders – public-listed companies that are able to grow their businesses at high-rates over the long run – through holistic fundamental analysis and holding onto their shares for years. The Fund aims to generate a 12% annualised return, net of all fees, over the long-term.
As of February 2023, the fund is up 9.8% year-to-date compared to the S&P 500 index which was up 4.3%. Stocks, however, still remain volatile given the uncertain macroeconomic conditions.
March brought with it more bad news in the form of the collapse of Silicon Valley Bank (the 16th largest bank in the USA by total assets) and the acquisition of Credit Suisse by UBS. This said, we believe our companies are not directly impacted by the troubles that these banks have faced.
Valuations still remain compressed for many stocks in the portfolio and we are optimistic that with good execution, our companies in the portfolio will continue to do well fundamentally which should ultimately drive stock prices over time.
From a fundamental standpoint, the companies in Compounder Fund's portfolio performed well in the fourth quarter of 2022. While some growth-deceleration was expected, many companies still reported decent growth. Besides revenue growth, it was also heartening to see that many companies in our portfolio have pivoted toward profitable growth in this environment of expensive capital. This should serve them well over the longer term. It also serves as a reminder that these high growth companies, while not generating cash flows in previous years, can easily pivot to profitability should the need arise.
Overall, while the macroeconomic environment remains challenging as we move through 2023, our companies remain in a strong position to weather this storm.
If you wish to find out more, please contact jeremy.chia@galileeinvestment.com.
Visit our website to get the latest updates on the Fund's Performance and Investment Theses: 
Galilee Investment Fund VCC - Sub-Fund 1
Real Estate Debt Fund
Fund Description: Real Estate Debt Fund is an open-ended fund that focuses on sourcing out good quality assets which require debt funding, giving investors the opportunity to participate in specific projects of their choice. The Sub-Fund will invest primarily in real estate backed private or public fixed income products or deals. The Sub-Fund aims to provide investors with a stable annual dividend income yield of between 6-10% net of fees, paid out quarterly, over the long term.
The first project launched for this Fund is structured as a Hospitality Fit-Out Debt Financing with an expected dividend payout of 7.5% per annum, paid quarterly with a 2-year term. This project allows investors to participate in providing debt financing for the fit-out of a series of hospitality developments to be managed by international brands such as Hilton, Citadines, Park Royal and Fraser Hospitality.
You can find a copy of our Project Factsheet here.
Click here or contact investor_relations@galileeinvestment.com if you wish to find out more!

Capri @ 228 (by Fraser Hospitality)
Capri@228 organized a soft launch event on 3 April 2023! Get a firsthand look inside the newly renovated hotel rooms! (Note: Pictures of the building and common facilities are 3D illustrations and might differ from the final delivery). A small team from Galilee will be heading up to visit the hotel later this month!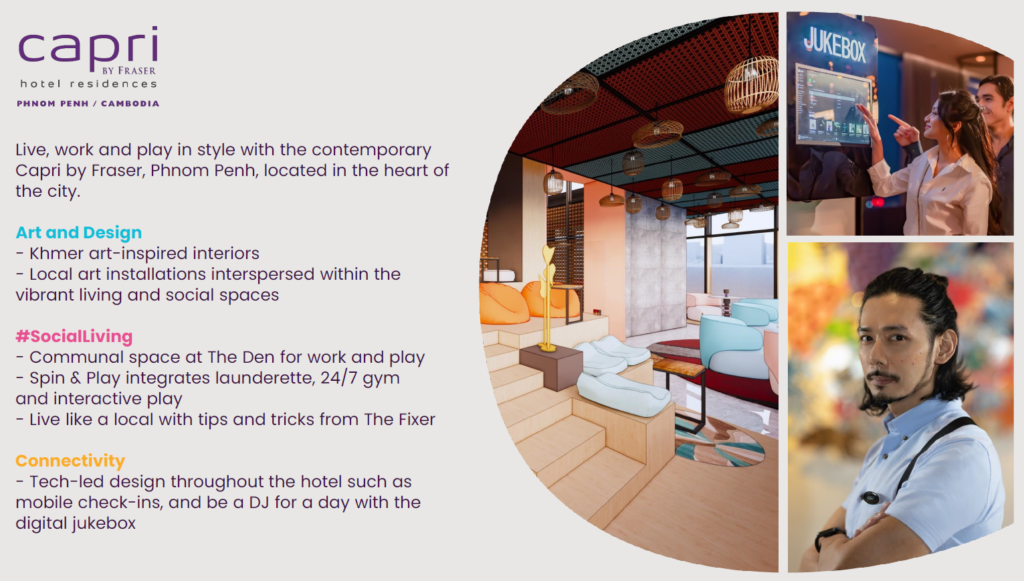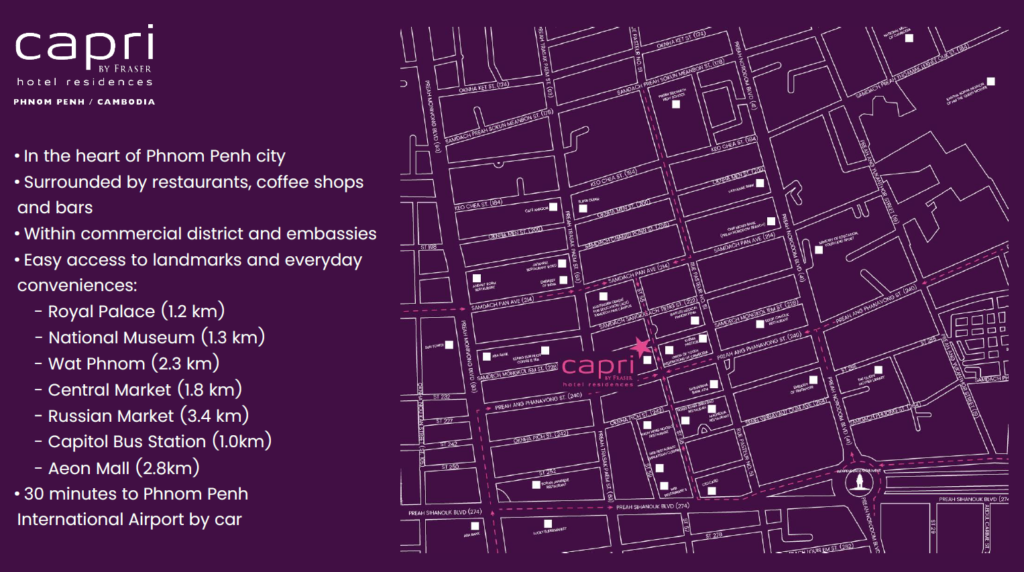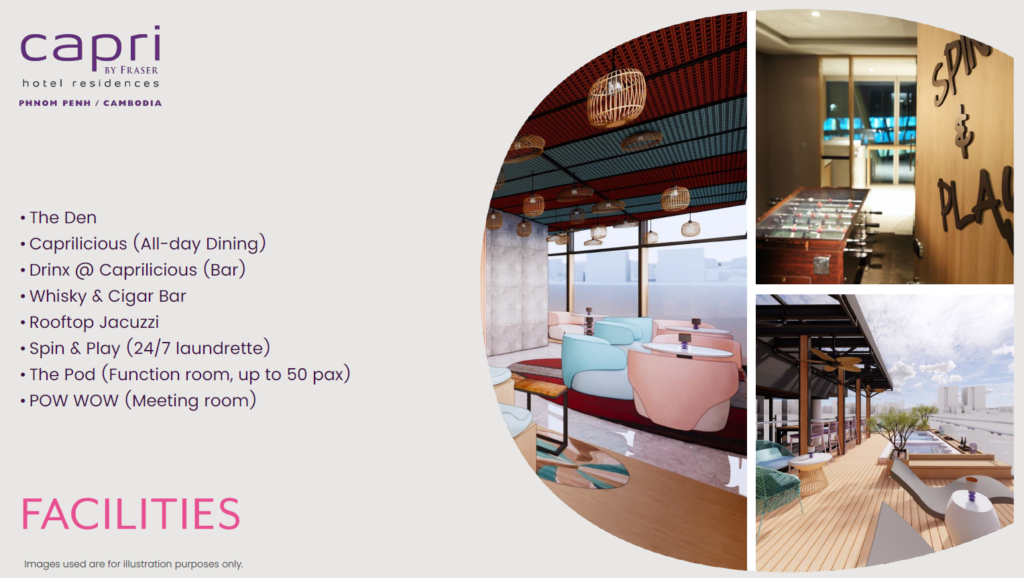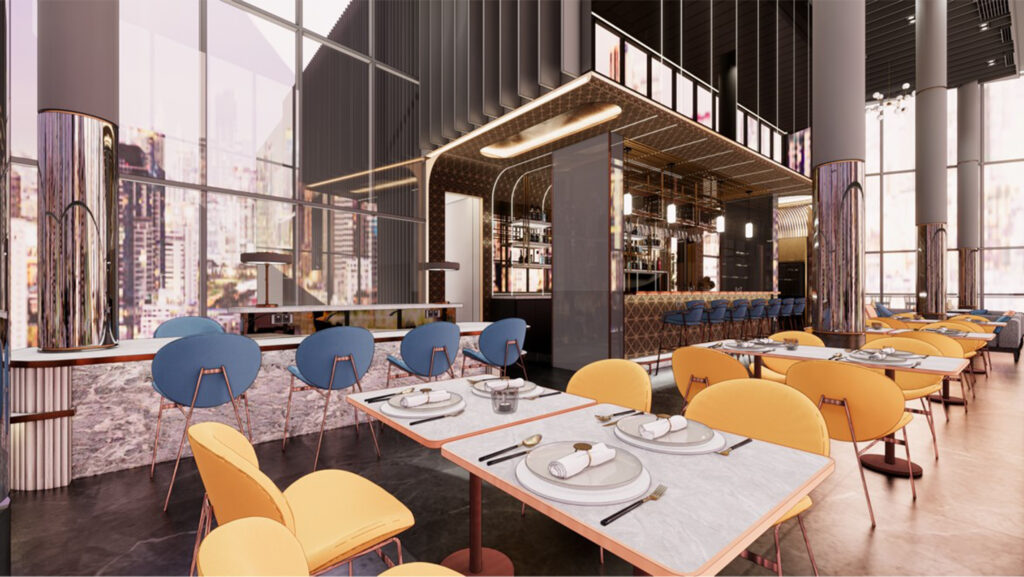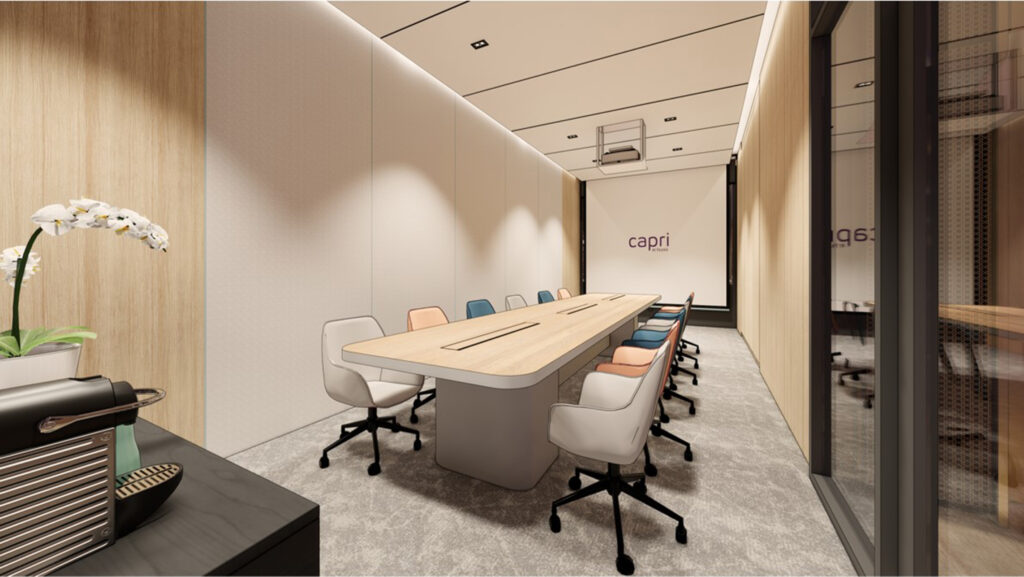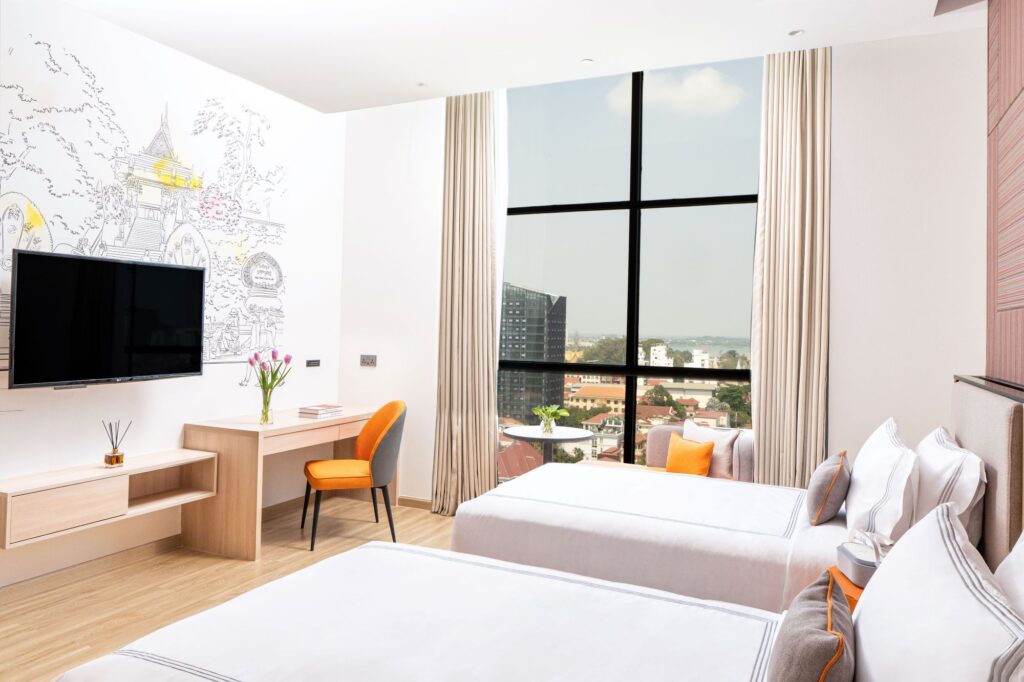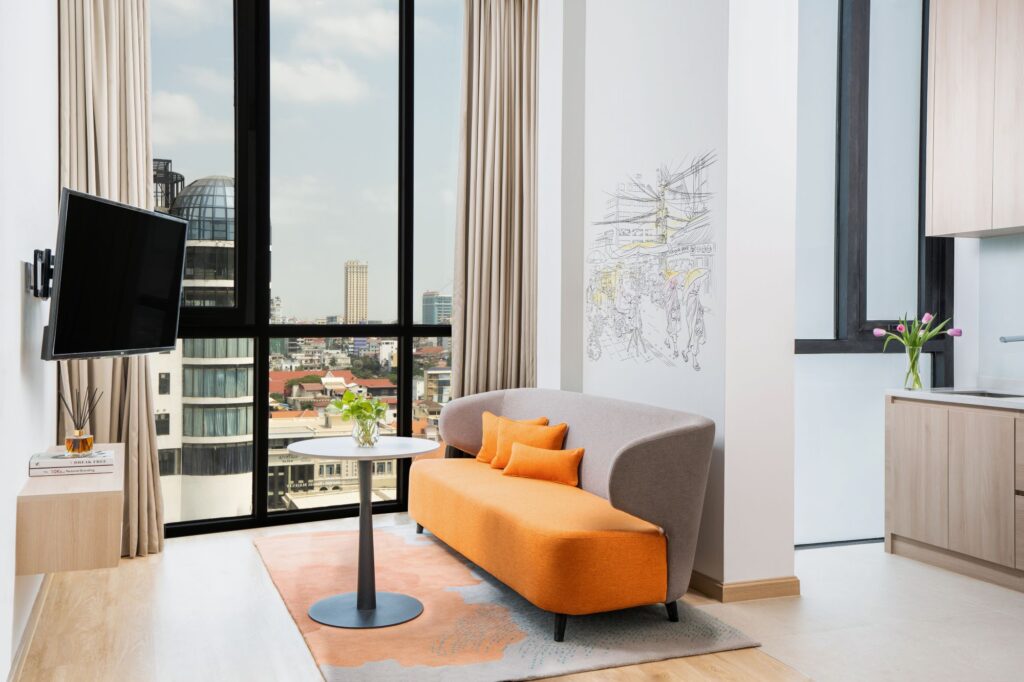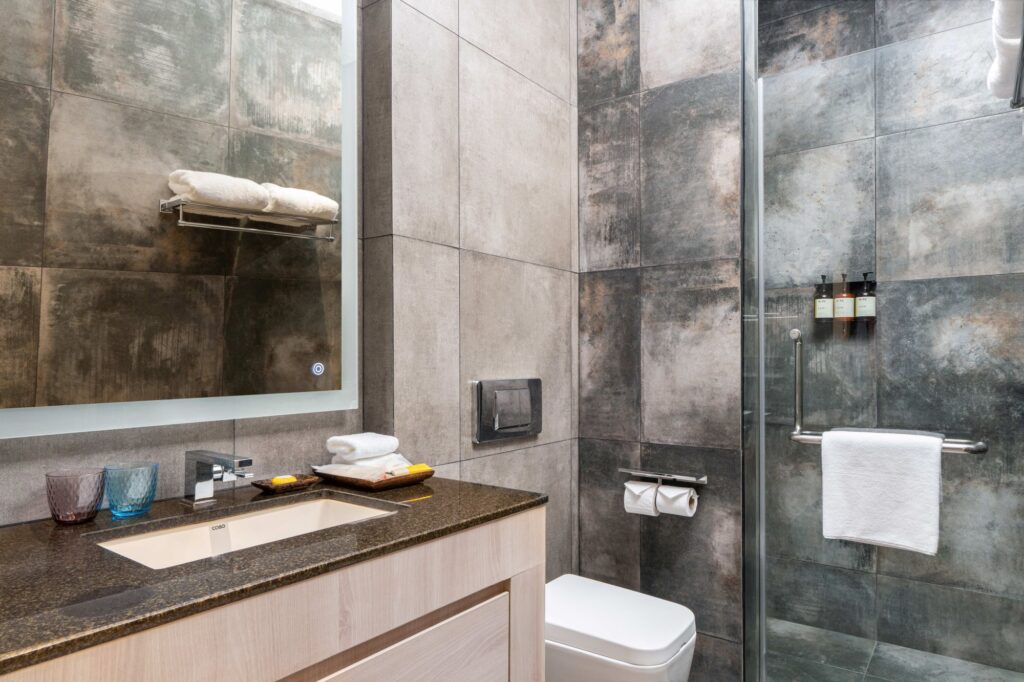 Global Tech Exchange (To Be Manage by hilton)
The second fit-out project included in this portfolio is the Hilton Hotel at Global Tech Exchange. The final phases of the project's facade and MEP construction are still ongoing, we will keep you updated once the fit-out of Hilton hotel is due to commence. In the meantime, have an inside scope into the initial design illustrations prepared by Hilton! (Note: Illustration are preliminary and subject to changes)
Kindly email us at investor_relations@galileeinvestment.com or contact your usual Galilee contact if you have any questions, feedback or changes to your personal details. (Bank account, handphone, email address, residential address etc.)
This confidential Newsletter ("Newsletter") has been prepared by Galilee Investment Management Pte Ltd ("Galilee") for distribution to selected recipients only. This Newsletter is for information purposes and shall not be construed as investment advice or for marketing purposes. While reasonable care has been taken to prepare this document, the information contained herein may not be relied upon for accuracy or completeness; and any opinion or estimate contained in this document is subject to change without notice. This Newsletter must not be published, circulated, reproduced or distributed, in whole or part, to any other person without the prior consent from Galilee. Please remember that past performance may not be indicative of future results. Different types of investments involve varying degrees of risk, and there can be no assurance that the future performance of any specific investment, investment strategy, or product made reference to directly or indirectly in this newsletter (article), will be profitable, equal any corresponding indicated historical performance level(s), or be suitable for your portfolio. Due to various factors, including changing market conditions, the content may no longer be reflective of current opinions or positions.